Gordon Lightfoot
Popular Canadian Musicians that made it in the Music Biz
50 YEARS ON THE CAREFREE HIGHWAY TOUR
Gordon Lightfoot continues to tour around the world with his band. His career began in the 1960s with songs like LESSON IN LOVE/SWEET POLLY, DAISY DOO / REMEMBER ME (I'M THE ONE), ADIOS, ADIOS (I'LL MEET YOU IN MICHOACAN) / IS MY BABY BLUE TONIGHT, IT'S TOO LATE, HE WINS / NEGOTIATIONS
DAY BEFORE YESTERDAY / TAKE CARE OF YOURSELF, I'M NOT SAYING / FOR LOVING ME, RIBBON OF DARKNESS / JUST LIKE TOM THUMB'S BLUES, FOR LOVING ME / SPIN SPIN, GO GO ROUND / I'LL BE ALRIGHT, THE WAY I FEEL / PEACEFUL WATERS and many more.
One of his most popular songs is SUNDOWN (1974). along with IF YOU COULD READ MY MIND.

Gordon was born in 1938 in Orillia, Ontario and always wanted to be a drummer. He also sang in a barbershop quartet before moving to L.A. to seek his fame and fortune in the music business.
Current band members:
Gordon Lightfoot
Rick Haynes - Bass
Barry Keane - Drums
Mike Heffernan - Keyboards
Carter Lancaster - Lead Guitar

In 2012, Gordon briefly visited his hometown of Orillia and in 2013 he will be touring all across the U.S.A.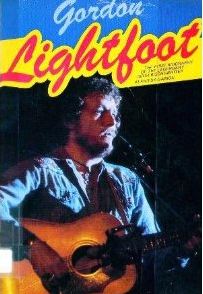 His biography has also been written and is available.
Gordon Lightfoot
and
Lightfoot: If you could read his mind : a biography